I had NO idea how very expensive it is to adopt a child – locally or internationally.   It's absolutely insane!   It hurts my heart to know that so many babies need a home and so many homes want a baby – but the expense prohibits the two coming together.    It is often too much for a family to do on their own, so fund-raising for adoption has become a great source of income for those wanting to add to their family.
My daughter's sister-in-law and her husband are in the process of raising funds to adopt a child.  I wanted to find a way to help and decided mini-sessions would be the most efficient use of my skills.   So, I'm offering fall themed mini-sessions to local families and donating all the proceeds to their adoption fund.    I pray it will be a success and they can move a step closer to bringing a child home.
What I'm hoping to do is set up an indoor and outdoor fall setup – you know, hay, pumpkins, mums, etc. and do a few shots of each child in a costume (which they will bring) and in a regular outfit of their parent's choice.    In return, each family will be 2 5x7s and 16 wallets for their $40 fee.    Any additional prints ordered will be discounted and those proceeds will go to the family as well.   That's the plan.   Pray for me that it is a success because I have friends who are just now starting the same process and I hope to do something for them either at Christmas or in the spring.
Here's the details: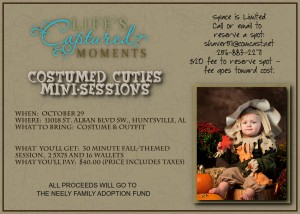 Please, pass the word to your friends in the Huntsville/Decatur area.