I was the Event Photographer for Torch, Inc., this past Christmas when I met representatives from the Village of Promise.   I hadn't heard of the group, so I asked what their mission was.   I learned they they have taken to heart and hand the students at University Place Elementary School.   The team at Village of Promise along with volunteers from the community are working to assist these students in any way they are able.   From sharing with them the amazing story of our Savior to tutoring in math and English, these kids are being blessed by this effort.  Naturally, I wanted to be a part of such a great work.
I volunteered to photograph their Healthy Family night event.   What a blessing it was to be there.   Especially at the end of the night when I saw the kids watching the slideshow.   Their favorite image was of their moms hula-hooping!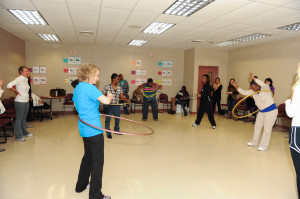 The event included the health bus from Huntsville Hospital where cholesterol was checked and proper hand washing techniques were taught and shown.   From there the families were able to take a quiz that later involved door prizes.    The participating families were divided into two groups.   The men and kids went with coach Scott Stapler to the gym where they were taught some basketball drills.   The women went to the multi-purpose room where they were taught some simple exercise/yoga moves, had a hula-hoop contest and then were taught how to make cabbage soup (a meal that cost $5 to prepare and feeds a family for three days).
Once everyone was back in the cafeteria, chili and cornbread were served to the families and volunteers, door prizes were awarded (two families left with new laptops!), and there was a slideshow presentation of the images taken during the event.
The Village of Promise is doing a great work in this community.   I HIGHLY recommend you look into how you can help this effort.   They need tutors for these kids and at present meals brought after school for kids who stay after to be tutored for an upcoming scholastic competition.
I love when I'm blessed to use my skills as a photographer to help in such a worthy effort in the community and our world!   God is good, all the time!