Did you get a new camera for Christmas?    Do you have a camera collecting dust because you haven't taken the time to learn to use it?  I want to offer some tips to get you started taking better photos of your friends and family.  These are your memories, so snap away and print them for future enjoyment.   Images on a disc cannot be enjoyed nearly as much as those in a scrapbook or family album.   I recommend printing at an online lab rather than at a local department store.   MPIX is the site I recommend using.
Photography is ALL about capturing light, so making sure your subject is in good light is key.  Open shade with your subject facing the light is the best place to start.  Look at the eyes, you should see light reflected there.   Make sure there are not hot spots of light on your subject – especially their faces.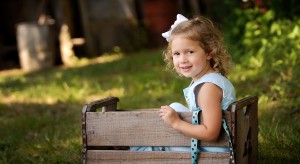 A true expression is always more meaningful than the fake smiles – saying, "Cheese," simply doesn't cut it.    Don't be afraid to interact and, if needed, act silly to get a real smile.
Finally, focus on the eyes.    If the eyes are out of focus, the entire image will appear "soft."
ADDITIONAL RESOURCES:
I've pinned a lot of great information on my Pinterest board.    If you use Pinterest, I'd check it out and repin any that you find useful.
I also recommend some great FREE learning resources available to you at your convenience:
Digital Photography 101 on YouTube is an amazing resource.    Start from the beginning and practice what you learn in order to grow your skills.
CreativeLive.com is another resource.   Click HERE to purchase a great online course for beginners.     CreativeLive broadcasts webinars daily that you can watch free or purchase downloads to watch at your convenience.   Be sure to check out their catalog of past courses to see if there are others you may want to purchase.
Most importantly:   Practice, practice, practice.    You can not skip this step!    Good luck and enjoy the process.