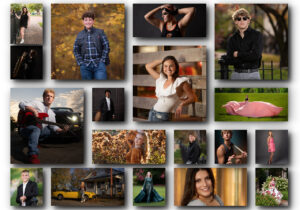 What Exactly is a Custom Senior Session/Experience?
Introduction
High school seniors are at a unique and exciting stage in their lives, transitioning from adolescence to adulthood. It's a time of celebration, accomplishments, and the beginning of new journeys. To capture this momentous occasion, many families opt for custom senior sessions or experiences. In this blog post, we will delve into what exactly a custom senior session entails and how it can create lasting memories for both the senior and their loved ones.
Consultation: Crafting a Personalized Session
The custom senior session begins with a consultation. This is a crucial step where you, as the senior or a parent, are invited into the studio to meet with the photographer, in this case, Cindy. During the consultation, Cindy will take the time to get to know you, your hobbies, interests, sports, and other aspects that make you unique. This information will help determine the locations and themes that best reflect your personality and passions.
Wardrobe Selection: Unveiling Your Style
In addition to discussing the session's concept, the consultation is an excellent opportunity to bring clothing options for guidance on what to wear at each location. Cindy, with her expertise in photography, can provide valuable advice on colors, styles, and outfits that will complement the chosen settings, resulting in visually stunning images that truly represent who you are.
Hair and Makeup: Enhancing Your Natural Beauty
To ensure you look your absolute best, Cindy offers the option of professional hair and makeup services. Collaborating with a skilled hair and makeup artist (MUA), you can enjoy a pampering experience before your session. The MUA will work with you to create a look that enhances your natural features, ensuring you feel confident and radiant throughout the shoot.
Posing Techniques: Showcasing Your Best Self
As a Master Photographer and Master Artist, Cindy possesses a wealth of expertise in posing techniques. She will guide you throughout the session, using her skills to capture your most flattering angles and expressions. By providing gentle direction and creating a comfortable atmosphere, Cindy ensures that you feel at ease in front of the camera, resulting in authentic and captivating images.
Lighting Mastery: Creating a Variety of Looks
One of the advantages of working with a skilled photographer like Cindy is her ability to manipulate lighting to create a wide range of looks. Whether it's natural light, studio lighting, or other innovative techniques, Cindy's arsenal of lighting options will bring depth, dimension, and artistry to your images. Each location and concept will be carefully illuminated to highlight your features and create a visually captivating narrative.
Professionally Designed Print Products: Timeless Keepsakes
Cindy understands the value of preserving your senior images for years to come. In addition to digital copies, she offers professionally designed print products that showcase your photographs in their full glory. These print products are crafted with utmost care and quality, ensuring your images are displayed beautifully and stand the test of time. Whether it's a custom album, framed prints, or canvas displays, these tangible products become cherished heirlooms, bringing joy to your family for generations.
Conclusion
A custom senior session/experience with Cindy offers more than just capturing beautiful photographs. It's a comprehensive and personalized journey that celebrates your individuality, achievements, and aspirations. By working closely with you during the consultation, guiding you through wardrobe selection, utilizing professional hair and makeup services, employing posing techniques, and utilizing a variety of lighting options, Cindy creates a memorable experience that boosts self-esteem and preserves your senior year in a meaningful way.
If you're seeking an extraordinary experience for your high school senior, one that combines artistry, personalization, and professionalism, reach out to Cindy today at 256-683-3602 to book your session. Let's tell Your Story!
The Senior Team
As a senior portrait photographer I invite area juniors to be a part of my senior team during their senior year.  Those are participate are invited to participate in several themed photoshoots throughout the year.
In years past I have shot themes to include 4th of July, Valentines Day, Old Hollywood, pets, and Christmas.  This year I pulled out my pink parachute and purchased an olive one for the girls on my team.
We found an open field, I placed them and myself on a ladder and involved the other girls to fluff the "dress" in order to create some unusual images and provide a fun experience for the team.
The goal for my team is to create some images they wouldn't have from their typical custom session.  These are added to their album/gallery to tell their senior story.  As my team look back on their images in the future, I hope they will remember the moments and the experience that went into creating this images/memories.
Let's tell your story
As a family portrait photographer, my desire is to fill my client's homes with beautiful images that will become family heirlooms.   I value the printed image because my own family photographs are so valuable to me. I enjoy creating wall art for my clients that...